Vitae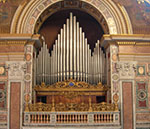 Giandomenico Piermarini, organist and electronic engineer, majored in organ and organ composition, graduating in 1982. He also is degreed in electronic engineering from the University La Sapienza in Rome.
While maintaining a commitment to the field of electronics and computer music applications, his main occupation has always been as a concert organist, the instrument he studied at prestigious Italian and foreign institutions (Holland, Germany, France) with important contemporary masters. Winner of several competitions, he has an active concert career to his credit.
A pioneer of MIDI and its applications in classical music and software developer for computer music, he is the author of the most important Italian text on writing music with your computer.
Since 1989 he has been lecturer in organ and Gregorian chant at the Alfredo Casella Conservatory in L'Aquila, where he teaches courses in computer music for students in the advanced I and II level.
He developed the "regional course for organist and choirmaster" implemented by the Abruzzo regional government and used at the conservatory. He served as editor of the three course editions, 2000 to 2003.
From December 2010 to November 2011, as always in Rome in the church of S. Ignatius of Loyola, he performed the 'Opera Omnia' with all of Bach's compositions for organ. This series of fourteen concerts. met with great success and large appreciative audiences.
He is the principal organist of the Papal Archbasilica of St. John Lateran in Rome since november 2002.
Since november 2013 until october 2019 he was Director of the "A. Casella" Conservatory of L'Aquila.