Bach's complete Organ Works recitals in St. Ignatius Ch. - Rome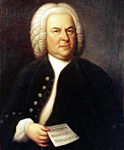 On the last 23d of December 2011 I began a series of fourteen recitals devoted to the complete organ works of Johann Sebastian Bach.
The catalyst for this initiative was the restoration of the great Tamburini organ in the church of S. Ignatius in Rome. Aiming to augment the cultural activities that have always taken place in the church, the Fathers have decided to revive a tradition which was cultivated over several decades by the great organist Fernando Germani.
This tradition ended with Germani's retirement in the early-eighties.
The initiative is also a tribute to the traditions of an earler era when music and culture had, it would seem, a wider range of followers than today. It appeared only natural to propose a series of fourteen concerts exactly as they were performed by Germani himself.
I am well aware of the musicological implications of such a choice. Many of the organ works included by Germani have since lost their "Bach parenthood". Preferring to disregard these later historical discoveries, we have decided to follow our own celebratory traditions by making no changes in the original concert programs. This also offers an opportunity to include a number of interesting and varied works from the 'minor' organ literature of Bach's contemporaries.
So, this will be a sort of 'nostalgic' operation which I hope will be acceptable to those who, like me (and others), have always gone out to look for art, music and culture in the places where they are at home.